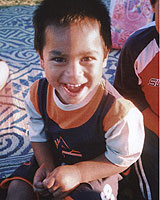 "Each night Ngatikaura Ngati would climb into bed and tell his adoptive mum Kura and dad Finau that he loved them before clasping his little hands in prayer."
This is the life that this little boy knew and grew to love in his short three years. His birth mother, fearing some benefit fraud by claiming for children not in her care, returned to collect the little man and within nine short weeks, he was dead.
The link below gives graphic details of the systematic abuse he suffered whilst in his birth mother's care - most of which would have been visual to anyone who saw him and yet, no one said a thing. Ngatikaura was brought up speaking Tongan so to be dragged from the only home he knew and plonked into an over-crowded house where he didn't even have a bed and they spoke only vile English, would have been such a cultural shock. No wonder the little man wet himself and for which he received brutal beatings with a softball bat.
The parents (for want of a better word) claim they "didn't mean to do it," but I fail to understand how someone could consistently beat a child with a bat and not think it would cause any harm. Their defence team are highlighting the fact that, whilst he may have been beaten him with a "stick," no one touched his head. Maybe that's because the head is the most visual part of a small body - bruises and swollen limbs can be hidden amongst floppy clothing.
We in New Zealand were incredulous to the new Bill that made it illegal for parents to physically discipline their children and we were aghast when a father was hauled before the Courts cause he clipped his kid's ear after running out onto the road, but here is a clear example of why such a Law was ever passed - some parents just don't get it.
My next question is why on earth these parents weren't charged with murder and instead, copped a lesser charge of manslaughter. What does it take to murder someone these days? I can bet my bottom dollar that if I went out into the street and clobbered someone with a softball bat (not around the head- mind) and that person later died, I would be definitely face a murder charge!
The mind boggles at our judicial system.
http://www.nzherald.co.nz/nz/news/article.cfm?c_id=1&objectid=10439204