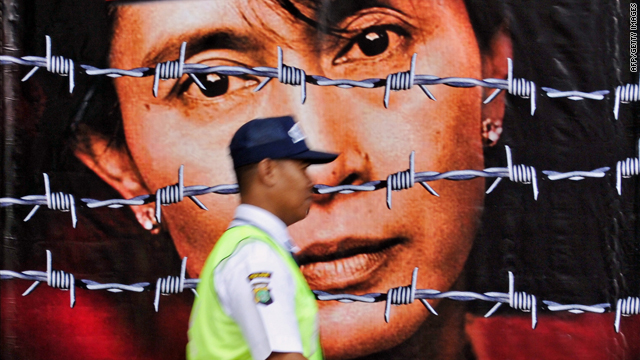 Nobel Peace Prize winner, Aung San Suu Kyi (65), was freed after her latest period of house arrest expired and was not renewed by the military government.
Ms Suu Kyi has
been detained for 15 of the past 21 years.
Her release comes six days after the political party supported by the military won the country's first election in 20 years - the ballad was widely condemned as a "sham."
S
upporters gathered at her house which is also the headquarters of her now-disbanded National League for Democracy (NLD) party for news of her fate. The crowd swelled to three or four thousand before Ms Suu Kyi, in a traditional lilac dress, finally appeared, about 30 minutes later, on a platform behind the gate of her compound.
She took a flower from someone on the crowd and placed it in her hair before addressing the crowd:
"I have to give you the first political lesson since my release. We haven't seen each other for so long, so we have many things to talk about. If you have any words for me, please come to the [NLD] headquarters tomorrow and we can talk then and I'll use a loud speaker.
There is a time to be quiet and a time to talk," she added. "People must work in unison. Only then can we achieve our goal."
She then went back inside her home for the first meeting with NLD leaders in seven years.